We knew it would arrive sooner of later. I just hoped for later. But here we are with another year that the kiddies will have to wear snow suits under their Halloween costumes.
Ever seen a genie costume over a snow suit?
Dreadful.
1. I had snow/ice tire drama yesterday. We phoned our regular garage and they couldn't get us in until Thursday. My tires were BALD. If we had freezing rain I'd be wrapped around a pole. I went to Canadian Tire and they couldn't get me in until noon and I'd have to leave the car for the day. I went to Kal Tire....it was worse and they were snooty. As a last resort I stopped by Reubens garage [the regular guy] and pleaded and pleaded.....they said come back at 1pm. I went back.....they got the car in right away. It took 45 minutes and cost $60 to switch the tires out. I am so thankful. I took them muffins as an additional thank-you. Reuben said it was a bribe.
2. The Christmas Countdown started Sunday and I failed to do anything. The first week is about getting everything organized. I hope to pull out my planning binder tonight and see what I have to do.
3. I woke up at 5am and rubbed my right eye. My contact fell out and onto my cheek. Now before you give me heck....these are extended wear contacts and I am supposed to wear them day and night. I can do so for 30 days straight. Anyhow, at 5am it decided to fall out of my eye. Which is a weird thing and rarely happens.....especially in the middle of the night. So there I was at 5am pulling the other contact out and tossing them. Good thing is this morning I've got a fresh pair. I can see clearly now my contacts are in.
4. I bought Candy Cane hot chocolate at Bulk Barn. It is about 50 calories a cup. It's been my nighttime snack the last few nights. It's really really yummy. It's not really minty and more of a white chocolate taste. But it tastes like winter and Christmas.
5. My Friday student thinks I'm hilarious. First I told her she needed to try the Peach Mango smoothie from Tim Hortons. Then I told her she needed to try the Pumpkin Spice Latte from Starbucks. Now she says "I have to go to Bulk Barn for Candy Cane Cocoa?" We laughed about it.
6. One election thing. I realized that if Obama was re-elected and the US continued into it's economic failure that the interest rates in Canada would remain low and the Canadian economy would continue to prosper. So. Please vote for Obama so Canada can be economically strong.
7. The Riders have gotten themselves into the play offs. But just by the hair of their chinny chin chins. We have 2 games to win to clinch the spot. I have a whole blog I need to write about this.
8. The new neighbours who moved into Neighbour Fred's house have been parking on our side of the street. They have a drive way. I don't understand why they need to park in front of my house. No, I don't own the street. But why can't they park in front of their own house? Well, last night they did. I think it was because of the snow. They also have a dog. I wonder where it poops. There isn't grass in the back yard.
9. Brandy has been the happiest little doggie ever. She had anxiety at the vet last week and Dr. Powell was concerned for her breathing. At home she has been the perfect angel. Hubby says "anjo".
10. After I clean the kitchen and burn off some calories I'll pull out that Christmas binder.....a binder full of Christmas.....and see where I'm at. With this sn*w I'm feeling festive.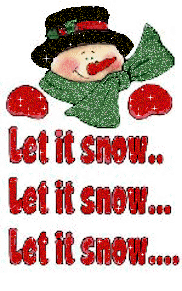 glitter-graphics.com